THE DAD HORSE EXPERIENCE
European Bookings
BOOK THE DAD HORSE EXPERIENCE
Touring availabilities in 2022:
May 29-31
June 1-2
Juli 13-19, 24-31
August 1-11, 16-23, 31 
September 1-4, 7-10, 16-26, 30
October 1-3, 14-18, 23-31
November 1-5, 7-11, 14-18, 21-23, 25-26, 28-30
Dec. 2-3, 9-10

Tourdates 2022:
20/10/2022 Thursday M.A.U. club Germany Rostock

Touring availabilities in 2023:
January 5-7, 2023
March 24 – April 11, 2023
May 17 – 21, 2023
May 26 – 30, 2023
June 30 – August 15, 2023
September 29 – October 3, 2023
October 13 – 31, 2023
December 28 – 31, 2023

and singular dates on request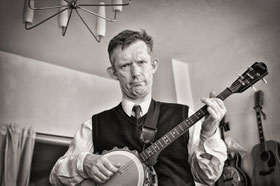 At the age of 40 Germany-based DAD HORSE OTTN started playing music on a tenor banjo given to him as a gift. Drawing inspiration from Appalachian music and the abysses of his soul, he invented a genuine mixture of country gospel, singer / songwriter, punk rock, and oompah-pah polka labeled as "Keller-Gospel."
Under the moniker THE DAD HORSE EXPERIENCE he started touring and since 2008 he's been travelling the world as a One-Man-Gesamtkunstwerk. Singing his mysterious and otherworldly songs with banjo, mandolin, bass-pedal, and kazoo, he tells bizarre and twisted stories about guilt, redemption, and the merchandise tables of heaven.
Keller-Gospel or European Underground with American Roots
With his thick German accent and decidedly original take on Americana, he could gain a respectable fan base worldwide, especially in the United States, home of country and gospel. After his song "Gates of Heaven", about a man requesting admittance to heaven to see his late mother, has been featured on a sampler by dark roots label Devil's Ruin Records, the song became a kind of anthem for the Muddy Roots scene, which appreciates traditional bluegrass and folk as well as noisy punk rock. With its hefty refrain, "Lord, I'm a badass motherfucker / But won't you please let me in?" this quirky gem is sung widely around campfire parties in West Virginia to Indie rock festivals in California. The song is close to becoming part of the Great American Songbook.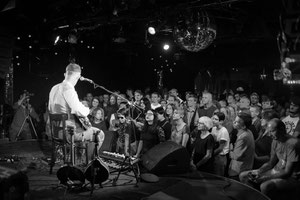 Music aficionados on both sides of the Atlantic wonder what's shaking here in the music of THE DAD HORSE EXPERIENCE: Hasil Adkins or Washington Phillips? William S. Burroughs or Søren Kierkegaard? Hank Williams or Wum, the banjo-playing dog of 1970s German television?
It's too limiting to view DAD HORSE OTTN solely as a musician. During his live performances the man with the great black humor readily tells stories both intriguing and mystifying.
He switches easily from abyssal sadness to anarchic witticism. With his surreal and twisted style DAD HORSE OTTN has established a worldwide reputation as a genuine European and authentic interpreter of the American gospel tradition.
In 2019 the Dad Horse XP turned from a formerly solo project to a full blown band. Dad Horse recruited a fine cast of excellent and award-winning instrumentalists to build up a powerful live set with a core ensemble of three plus him.
Spring 2022 they publish an album with all time Dad Horse classics, performed and recorded vessel carrier style with his brand new big band orchestra AT THE LIMBO. Beside Dad Horse Ottn singing and plucking banjo as usual, you'll hear Olaf "Sweetheart" Liebert on the bass guitar, Michael "The Duke" Jungblut on the electrified guitar, Signora Ayumi Valentina "Crownjewel" Tovazzi on the violin, Mr. Matze "Soloinstrumentalist des Jahres 2017" Schinkopf on a puzzling variety of wind instruments and Hanno "Handsome" Janssen stoically playing the drums.

THE LIMBO, the zone between damnation and redemption, between lockdown and group orgy, the zone as well between Dad Horse' solo pathes and the new manifestation as a band leader with new vinyl releases in GERMAN LANGUAGE next summer, this zone is where it all take place musically in this very moment and here is your opportunity to JOIN THE PARTY. Enjoy.

https://thedadhorseexperience.bandcamp.com/album/at-the-limbo
Current members of the Dad Horse Experience are:
Dad Horse Ottn (banjo, mandoline)
Olaf Liebert (bass),
Hanno Janssen (drums),
Ayumi Valentina Tovazzi (violin), or Michael Jungblut (electric guitar)

additional musicians on request:
Chandler Pratt (acoustic guitar)
Matthias Schinkopf (sax, flute, trumpet) 
and occasional guests
Get yourself an idea how Dad Horse' tunes work out with band:
Full cast (sextett)
Small cast (trio)
"His music is one of the best in a style of what we call a "transatlantic feedback." DAD HORSE OTTN combines in his unique way American roots with European traditions, Gospel music with this old White Blues, which had some certain roots in European styles too, and with the timeless power of this Rock'n'Roll, which was never far from Gospel music." — Franz Dobler
"If one third of music was half this good what a world we'd have!" – David Fair (Half Japanese)
"This man has a message, and music is the medium with which he effectively conveys that message. What's more, it is a message born of darkness and sin, and so it is intended to be delivered in the dark places and to the sinners. A little direction for the lost. Some hope for the seemingly hopeless. A touch of salve for the wounded. A dot of light at the end of a long tunnel." – James G. Carlson, Examiner.com
Website:
https://www.dad-horse-experience.org/
Videos:
Music:
https://soundcloud.com/dadhorse
Bookings are open NOW!
WANNA BOOK -> CLICK HERE